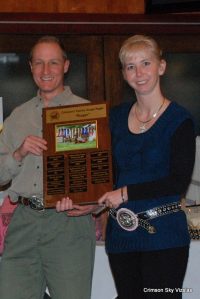 Welcome to Crimson Sky Vizslas. We are Vizsla breeders located in Haines City Florida. You will see that we love our dogs and they are family. We hope our website explains and teaches you about the versatility of the Vizsla breed, answers questions about Vizslas, Pam and Mark. 
On these pages you will find information about the Vizsla as a breed, Vizsla puppies and Vizsla Litters. We have pages for each of our Vizsla Stud dogs, as well as our Females and Retired dogs. There is a page for recent accomplishments called

Vizsla  News

. Ther is also an archive from past field trials and upland hunting trips called

Event Photos

.  
We are  or have been active members in The Tampa Bay Vizsla Club, the Vizsla Club of Metro Atlanta, The Vizsla Club of Illinois, The Vizsla Club of Greater Milwaukee, The Central Wisconsin Vizsla Club, The National Vizsla Association, and the Vizsla Club of America. We also  participate and help most of the Vizsla Clubs and all breed clubs when we compete. visit our Links page for clubs we work with as well as other dog and Vizsla related sites we support.
Visit our page About us for a complete bio on Pam and Mark
We would like you to be informed with respect to the conformation of the Vizsla. What to look for in a Vizsla hunting dog, Field trial prospect or family pet. We would also like to make sure the Vizsla is right dog for you.
A Vizsla puppy may change your life, it certainly did for us. Enjoy your journey.
Please Contact us If you have any question
Thank You 
Mark and Pam Spurgeon