Ruger
3xNGDC 2xNAFC NVA NFC DC AFC 

Crimson's Twenty Gauge Ruger SH CGC VC HOF ROM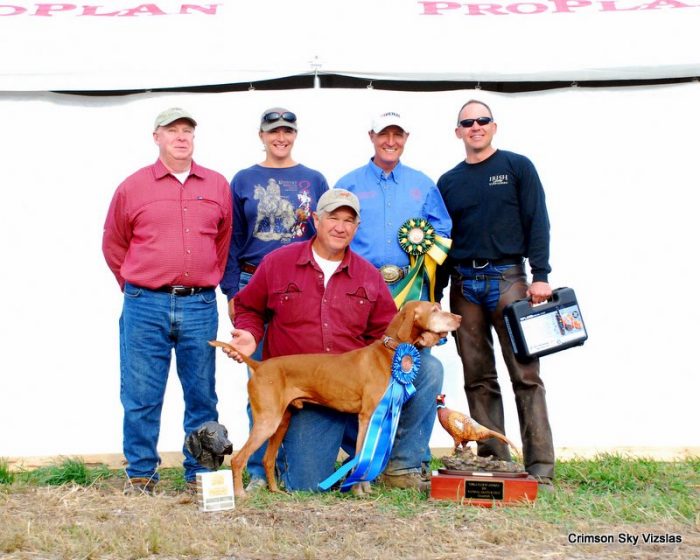 Ruger is the highest Nationally titled Vizsla in history. He won 6 National titles. 5 in AKC and 1 with the National Vizsla Association which is an American Field event held by the NVA. He has 4 other championship titles in both AKC and American Field. Ruger loved competition in either the show ring, or the field. Ruger has added a couple of new titles to his name in 2019. he earned his HOF and ROM title. Being inducted into the VCA Hall of Fame National is an honor Dogs are voted by the membership and need 50% plus one. Ruger received 326 and needed 251 well above whats required. his Registry of Merit is based on his progeny. He has been on the top ten list most of his life and has received the top field trial sire for 2016, 2017, 2018. In 2011 he won the Gun Dog Championship NGDC for the 3rd time out of 4 years. It is a 1 hour walking field trial held under AKC rules. 2011 was held in Somerville TN near the famous Ames plantation. 1 week earlier he won the National Vizsla Association NVA National Field Championship NFC held at Grovespring Missouri. This is a traditional 1 hour horseback National field trial held under American Field rules. In the Fall of 2010 he won the Midwest Vizsla Shooting Dog Championship MVSDCH a 1 hour Shooting Dog Championship also held under American Field rules. This Championship was held at the Ionia Michigan grounds. In the fall of 2009 he won the Vizsla Club of America VCA National Amateur Field Championship NAFC held in Virginia. Ruger has proven to be a versatile competitor excelling in every venue he entered. he has also passed his looks, style drive and competitor mindset to his puppies. as of 2019 Ruger and his puppies have been honored to win the NGDC 6 times in 11 Years. He has also had puppies win the VCA and AKC National Championships. Ruger's pups and grandpups have been honored to have won countless placements in National events as well as local. If you look further back you will find Ruger in the bloodlines of many  winning and placing dogs in local, national and international events. 
Ruger was the first vizsla we kept out of our lines. He was the pick pup from our Madison bread to Ranny owned by Jim and Linda Busch. Our Decision to keep Ruger was made when he was 5 weeks old in a wing and string competition. I asked Jim about entering him and I was told "sure if you can keep him awake". He won his first ribbon that day and continued to win until his retirement. His last National placement was a 4th at just uner 12 years old.
Ruger and I have enjoyed competing in Vizsla and All Breed trials across the country. He has a drive that won't quit, and his stamina is fantastic. Ruger has always been handled in the field by Mark his amateur owner with the exception of 1 stake. Ruger has been on the VCA Top Ten lists, and Ranked #1 VCA Top 10 virtually his whole career. His drive, style and flash have allowed him to excel in competition. His desire to please and temperament have made him a joy to own.
A few of his Rugers more memorable accomplishments are Winning the 
2011 NVA Nationals 1st
2010 MVSDC 1st
2011 Vizsla Club of America National Amateur Championship 1st
2011,2009, 2008 VCA National Gun Dog Championships 1st
2006, 2007, 2008, 2010 and 2011 called back for VCA Nationals for the 2nd series
VCA top ten lists
2004 2nd Runner Up Midwest Vizsla Futurity
Ruger earning his show championship
2011 Sire for the winner of the 2011 National Puppy
2011 Grandsire 4th National Puppy 4th
2010 Grandsire for both the 2010 VCA National Derby winner
2010 Grandsire Midwest Vizsla Futurity winner
  2009 sire Midwest Vizsla Futurity 2nd RU
2007 sire Midwest Vizsla Futurity 1st RU
He has pups excelling in the show ring and earning titles.  Look for his pups and grand pups in competitions near you.
Ruger is a hard charging male that handles easily and is a pleasure to hunt over. He passes his looks, style, drive and temperament on to his puppies. You can find them winning in the field, show and agility ring along with lounging on couches in the home. Ruger's kind sweet temperament made him wonderful around puppies, older dogs and children.
Ruger was much more than a competition dog; he was a companion, a friend and part of our family. We were lucky to be owned by him.
Ruger frozen semen is available for approved females.
Hips OFA —- Excellent
VZ-8685E24M-PI
DNA # V318659
AKC # SR01813101
Sire–FC AFC Raany SH FD
  Birthday 06-07-2002
CERF # VZ-1084/2010–103
FDSB # 1557763