Izzy
FC AFC Crimson's Isidora Rizzini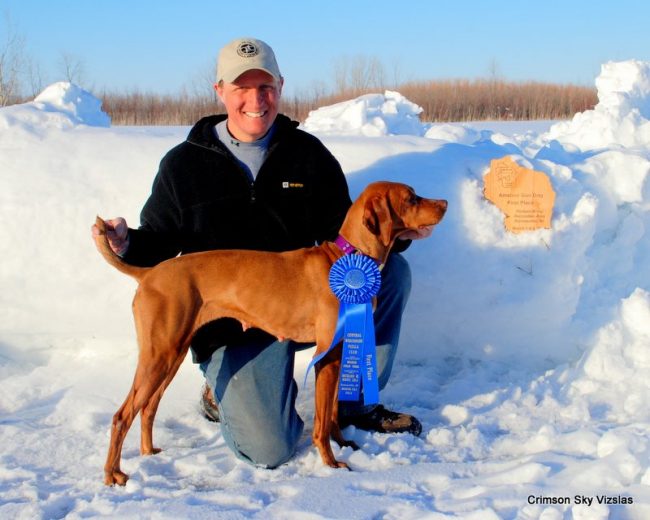 Izzy became everthing we wanted and more when we kept her from our Rigby to Ariel litter. Her ease of training never stopped amazing us. Mark would show her something and she would say "yep I got it". She had style, intelligence and a loving temperament. she would push in the field and chill out around the house. Mark was training her to be a hunting dog and she broke herself with almost no correction required. She started playing the game in Puppy and Derby just for experience. she was not an all-star at that point. She worked well but wasn't the dog that disappeared she was more interested in finding every bird and would get hung up with the slightest scent of a bird. Mark decided to work her toward pheasant hunting and grouse. We have always said you cant tell what a dog will become at 6 months old. you may know they are competitive but what they become is a journey. Izzy was this case. Mark started breaking her and she stood still. He showed her how to back she did it naturally. retrieve no problem and always to hand. Once broke she would still go along to train off horseback. She gained confidence and opened up. She naturally found her edges as that's where the birds are. She had everything needed to compete.
Compete she did! She earned her Field Championship and Amateur Field Championship easily. Izzy placed in several National filed trials. She became a regular in the Second Series at Nationals. she was flashy and put on a good show. add her style and bid ability she had a winning combination. Izzy was competitive until her retirement from trials. 
Izzy was the combination of our 2 lines. Her breeding was the plan when we bought Rigby. He comes from the Linden line by Denny and Linda Keeton.  The Dam was Ariel. She was a Ruger sister from a repeat breeding. See pedigree below. While things don't always turn out as planned Izzy sure did. 
Izzy was also the mother to Gauge. You can read about him on his page. Obviously Izzy was a special girl to our breeding progam and our family.
Hips OFA —- Excellent
VZ-12336E26F-VPI
DNA # V606755
CERF VZ-1087/2010–19
AKC #SR56426101
FDSB# 1643789
Sire– FC AFC MVSDCH Crimson's Lord Rigby of Linden
Dam– Crimson's Arrieta Lady Double